Autumn is here, and with it a brand new colour scheme. You're raring to don those reds, coppers, and yellowsbut, have you ever thought about what colour you should wear according to your personality? Your favourite colour can be a good indicator of your personality but knowing which colour reflects certain traits can also help you to harness some inner calm if you're feeling particularly fiery, or confidence if you're feeling nervous. Without further ado, here are which colours and headbands reflect which personality.
Red

If you're usually looking for an opportunity to stand out, pop some red on your head! It's said that red-lovers are adventurous by nature and often harbour a competitive streak. If you're full of energy and always up for a challenge, don our beatrice braided velvet headband (above). A deeper shade of red, burgundy, represents power and ambition so you'll be showing off your fiery nature with this piece!  
If you're dressing to impress, try our scarlett headband (below). Its gorgeous gold accents provide a sparkling contrast with the red and will truly turn heads – exactly what you want when it's in your nature to stand out! 

Orange
Autumn is here and orange is back! This warming colour represents a desire to socialise so the striking orange beads and gold detail in our Lorianna headband – red will be the perfect talking point! The famous 'Hartman Personality Profile' suggests that (broadly speaking) red tones are motivated by power and yellow tones are motivated by fun. Orange takes a little of both worlds! If that sounds like you then this headband is your perfect match! 
Yellow
 If you're often described as a "ray of sunshine", yellow is for you. Associated with a love of learning and sharing your ideas with others, you're a naturally giving person. Our Isobelle headband features a glorious gold band that will put a smile on anyone's face and shimmering faux pearls and jewels that will reflect your sunny disposition even on the greyest of autumn days!

Green
Green is for grounded. Calm in the face of a crisis, loyal and trustworthy, green represents dependability. It is said that if your favourite colour is green, you value a good reputation. With our Lorianna – green headband, your reputation as a style guru will be set in stone! With exquisite leaves and flowers surrounding the feature green and white gems, this piece reminds us of nature and encourages you to remember your roots.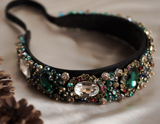 Purple
Creative thinkers, 'imagineers', and free spirits, this one is for you! If you're a visionary, ambitious, and are often turned to for advice, purple is your colour. Purple personalities love to travel, want the best for themselves, and tend to follow their dreams. The hand sewn purple flowers and beads in our Ciara headband – purple give off a magical vibe and the sparkly jewels are perfect for showing off your free spirit!

Blue
Blue often reminds us of the sky and the ocean, which is fitting for a colour that represents constancy, inner peace and the desire for stability. If that sounds like you, or more importantly, if it doesn't sound like you at all and you're looking to channel some serenity, then go for blue! 
Try our brianna – sky bluhttps://evelynandrose.co.uk/product/brianna-braided-headband-sky-blue/e if you fall into the latter. Made from a calming pastel blue satin with braids that invoke infinity and tranquility, you'll feel more balanced by the minute! 

Pink
Pink, in its many shades, is the colour of love and friendship, associated with being romantic, caring, and kind. So, if you're a particularly affectionate person, or find yourself following your Pink, in its many shades, is the colour of love and friendship, associated with being romantic, caring, and kind.
If you're young at heart, go with our sadie – pink headband. Jewels, and pearls in particular, are charming and often associated with romance and fairytales while pale pink represents sensitivity. If you're a romantic at heart, look no further! For a simple and versatile look, why not try our selina slim headband – pink, perfect for those days when your outfit is doing the talking! 
Turquoise
In many cultures, turquoise has healing and protective qualities so it's often associated with caring and sensitive individuals. In Tibetan culture it's specifically linked to wisdom and, around the world, turquoise is associated with 'old souls'. So, if you're often described as having wisdom beyond your years, this colour is for you. Our Ciara headband – green has gorgeous hand sewn turquoise flowers and looks both blue and green in different lights. A blend, or shift from blue to green is what signifies wisdom and the life cycle in Tibetan culture! 
Black
You can be particularly dominant in social groups, but not without thought behind what you say. Strong-willed and determined, you can be a little demanding but rarely unreasonable! Black represents determination, making one of our statement headbands perfect for you! How about our Angelina headband – black headband (left) A black velvet headband with sparkling black and gold flowers, this is perfect for bold souls and also exudes elegance – another meaning behind the colour black. For the perfect addition to that little black dress, you can also try our selina slim headband – black (right) for effortless chic!